WHAT IS woo(l)den fishbone* carpet
FIshbone* is a carpet made of wool & wood. 
It is the first prototype of the project called Wool(d)en carpets, which are carpets designed with the use of wool and wood and inspired by familiar floor patterns.
It is designed to stand in-between a woolen carpet and a wooden floor.
Fishbone* design is based on the parquet floor pattern.
LIFESTYLE
Fishbone* is perfect for any type of flooring.
…And it's got a great style, to fit with all environments. 
It combines a soft woolen feel with the sense of a solid wooden floor, in one product !
PROPERTIES 
– excellent insulation, especially helpful on cold cement or tile floors.
– unique sense on feet when walking.
– warm sense & unique character on space.
– comfortable to walk on, & perfect to relax on with your friends.

.
TECHNICAL
BASE LAYER: stone white felt sheet 12mm & planted magnets
IN-BETWEEN LAYER : cotton ribbons and crochetes
TOP LAYER : grey felt sheet 0,6mm, cnc cut & wooden pieces
DIMENSIONS : 2,45 x 1,05 m 
THICKNESS : 18 -20 mm
.
100% NATURAL 
FIshbone* carpet is 100% natural product.
All resources used are sustainable and they are not mixed with any other substances during manufacturing.
Woolen parts are manufactured by natural wool collected from sheep, without harming the animals.
Wooden parts are manufactured by natural maple wood, collected on selected authorized areas, without harming the forest.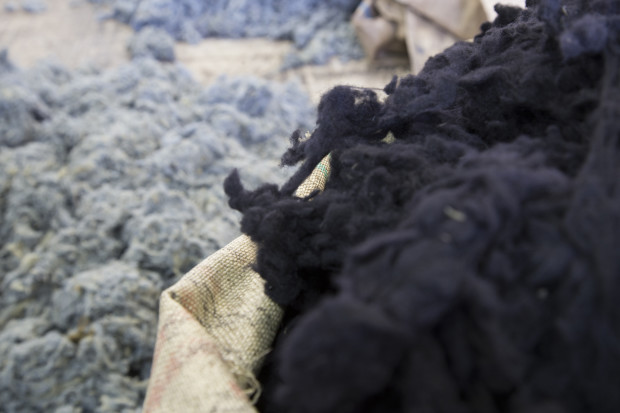 .
MORE PATTERNS
We designed wool(d)en carpets to share what we believe is a progress in carpets and flooring in general. Several patterns have been studied so far, and are yet to come in a carpet format.
Woo(l)+(d)en carpets:  Square
100% woolen and natural wooden carpet made of beech wooden rods, based on a square pattern.  Wooden parts are free to detach of their base.